Scuba Diving in Cebu with us

Kontiki Divers / 7 Seas Dive Center. Video - 1:00 min
Cebu is the center of scuba diving activities in the Visayan Archipelago. Kontiki Divers / 7 Seas is right in the heart of it, on Mactan Island, only 20-30 min from the international airport and about 45-60 min from Cebu City.

Diving with 7 Seas / Kontiki Divers is just so easy. You can dive our house reef any time, just grab your equipment and your dive buddy and go for a dive (after the initial check dive, of course). Join one of our regular boat dives, or embark with us on a day trip or dive safari.
How to get there
Here is an overview over our dive services and dive spots:
Office Hours and Dive Schedules

Our office is open from 9 am to 6 pm. However, dive activities start as early as 7 am and last until 8 or 9 pm, depending on early morning and night diving activities.
Office Hours: 9 am - 5 pm
Early Morning Shore Dive: 7:30 am
Morning Boat Dives: 9 am
Afternoon Boot Dives: 1:30 pm
Night Dive Shore Dive: 6:30 pm
Departure Time for Day Trips: 9 am
Day Trips & Island Hopping around Cebu - Weekly Schedule
These are tentative schedules and can be changed depending on weather conditions and customer preferences.
General Dive Limitations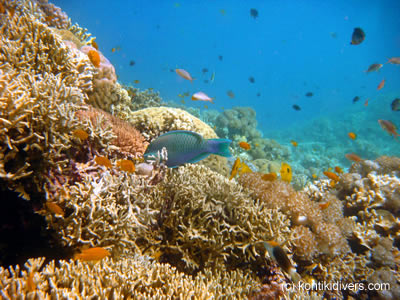 We adhere to the international scuba diving standards and procedures. You need a dive certificate from any accredited dive organization to dive with us. Recreational dive limits apply on all our dives (except for technical divers). This includes the maximum depth limit of 40 meters / 130 feet, no decompression diving and a mandatory safety stop at 5 meters / 15 feet for all recreational divers.We conduct a short skill and equipment check prior to your dive activities at no additional cost. If your dive skills are a little bit rusty or if you haven't dived for a long time we are happy to conduct a refresher course with you.
Your Diving Safety
Our boats are equipped with extensive emergency equipment like oxygen, medic first aid kits and cellular phones. The dive shop has lots of oxygen in stock and we are well prepared for any dive emergency. We are member of the PCSSD (Philippine Commission on Sport Scuba Diving) and DAN (Divers Alert Network).  
Additional Services
We work hard to provide a safe and enjoyable experience for all our customers. It may be necessary for us to use additional staff, schedule additional class, pool, or open water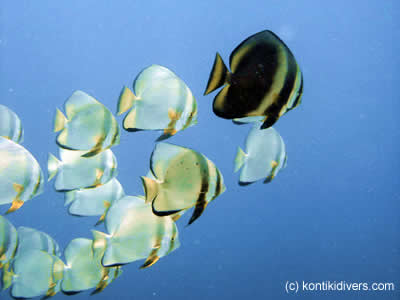 sessions or make other accommodations for our customers to ensure the best possible experience. If you have special needs, or would like to have your personal dive professional to guide your dives, please contact us in advance to make the necessary arrangements. These additional services may require an additional fee above our standard rates. We're happy to work with you to the best of our abilities to make your experience with Kontiki Divers fun and rewarding.
Dive Equipment
A wide range of dive equipment and spare parts are available in our well equipped dive shop.
Cebu Diving Season
We dive all year round. In summer time (dry season: January - May), the sea is usually calm with very good visibiltiy. Rainy Season starts in June and is actually very nice, too. Bright sunshine in the morning and a short but strong and refreshing downpour in the afternoon or at night. Usually good visibility. September till December is Typhoon Season, where we have sometimes overcloud and rain for a couple of days in a row. We are not much affected by typhoons passing through the Philippines since Cebu is outside the typhoon belt. Visibilty varies from 10-30 meters, water temperature is 27-29C.
Diving around Mactan Island
The dive shop is situated directly at the beach, offers easy access to the water and a magnificent house reef with a coral garden teeming with fish. The dive spots along the eastern coasts of Mactan Island are mostly wall dives, dropping from about 3m / 10f to 50m / 150f or deeper. An airplane wreck and a huge cave, the Marigondon Cave, are accessible within short boat rides.
Diving around Olango Island
The dive spots around Olango Island are all mostly protected Marine Parks, namely Talima Marine Park, Hilungtungan Marine Park and Nalusuan Marine Park. Fish life is abundant in the marine sanctuaries and these dive spots are a high light for underwater photographers. Tingo Point offers deeper diving and a chance to see thresher sharks. Diving around Olango is mostly organized in daytrips.
San Juan Wreck
The San Juan Wreck is a huge ferry lying in deep water and accessible only for advanced and technical divers.
Cabilao Island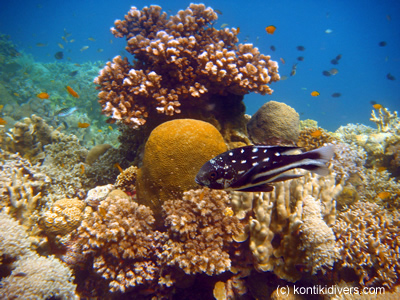 A daytrip to Cabilao Island offers unspoiled diving on pristine reefs with chances to see schooling barracudas and shark encounters.
Dive Safaris
Our multiple day dive safaris bring you to the islands of Cabilao, Panglao, Balicasag, Sumilon, Apo and Pescador.
PADI Dive Courses
We offer the whole range of PADI Dive Courses, from beginner to Divemaster. Chose from this courses: Discover Scuba, Scuba Diver, Open Water Diver, Advanced Open Water Diver, Rescue Diver, Divemaster, Deep Diver, Night Diver, Nitrox Diver, Boat Diver, Drift Diver, Equipment Specialist and more. We teach in English, German, Japanese, Italian, Polish, Tagalog, Visaya, Hebrew and Arabic languages. We have teaching materials (books and DVDs) in additional languages at stock, like Korean, Russian, French and others.
Technical Diving
We have perfect conditions for technical divers, just in front of the dive center. Just on a shore dive you can reach depth exceeding 100m / 300f. The San Juan wreck gives is ideal for technical  wreck diving and we are in the process of exploring new caves for technical cave diving aficionados. Tech courses are conducted according to DSAT / PADI TecRec and IANTD standards. Rebreather divers are welcome, too.
Underwater Photography
A modern digital underwater camera is for rent in our dive shop.
Dive Safaris
Cebu is the ideal place for a dive safari. Explore the best dive spots of the Philippines, hopping from island to island. More info here
For dive safari info in German click here: Tauchsafaris Philippinen