Cebu & Cebu City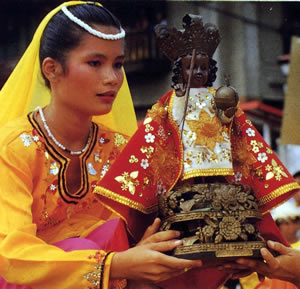 Cebu is famous for the beauty of its nature and its enterprising people. It's a paradise for the beach lover, the diver and the golfer.
Many people ask what makes Cebu so attractive. For one it's the people: even before the Spaniards arrived, Cebu, located in the center of the Philippines and having a deep-sea harbor, has always been a trading place. Until now Cebu 's people are especially friendly and open minded towards foreigners and visitors. The early exposure to foreign cultures lead naturally to a mixture of blood, making its people particularly handsome and beautiful.
Cebu City is the center of business and nightlife. You find accommodations from basic to luxurious, complete sports facilities, cuisines from native to exotic and a vibrant nightlife. Giant shopping malls and traditional Asian markets offer everything you want to buy.
The island is blessed with year-round pleasant, tropical weather. Pristine beaches, some just a 20-minute drive away from the metropolis, are part of Cebu 's appeal. Hop in an aircon car and within a couple of hours you reach fantastic dive spots, belonging to the best the Philippines have to offer.
Also Golfers and Adventure Sport enthusiasts find everything they are longing for: lush fairways or jungle-covered canyons in the mountains.
It's the combination of city life and untouched nature, of friendly people and successful commerce what makes Cebu the most popular tourist and business destination in the Philippines.
Map of Cebu Island and Cebu City
Click to enlarge
View Larger Map